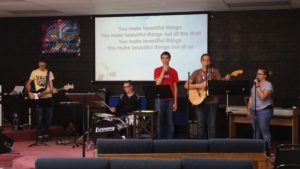 Many of our students find a fulfilling place to serve in our band. This includes vocalists, instrumentalists, and the A/V Tech Team.
All Students interested in being a part of the worship team must apply. Potential new members (singers and instrumentalists) are also required to audition.
Our worship team is currently filled for the 2018-2019 school year. However, if you are new to the ministry and are interested in applying and auditioning, please contact Matt Vince at MVince@phbaptist.org or by calling the office at 440-886-6100.