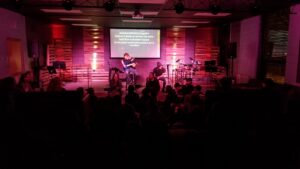 Many of our students find a fulfilling place to serve in our band. This includes vocalists, instrumentalists, and the A/V Tech Team.
All Students interested in being a part of the worship team must apply. Potential new members (singers and instrumentalists) are also required to audition.
Our worship team will, hopefully, be taking applications soon. However, if you are new to the ministry and/or are interested, please contact Dan Adams at DAdams@phbaptist.org or by calling the office at 440-886-6100.